Thomson Reuters MENA: Hot Seat Episode 1
THOMSON REUTERS MENA: HOT SEAT, EPISODE 1
Trade Flows: Growth, Trade Wars & The Need For Efficiency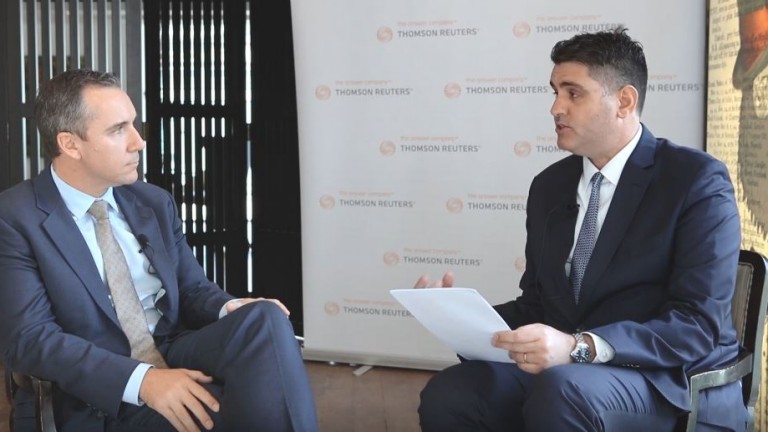 09:38
Thomson Reuters MENA: Hot Seat - Episode 1 Trade Flows: Growth, Trade Wars & The Need for Efficiency
In the first episode of our video series, David Fox, Managing Director for the Corporate segment, Asia & Emerging Markets at Thomson Reuters, shares his insights on the current state of the global trading environment.
We discuss the impact of ongoing developments—such as the coronavirus outbreak, Brexit and the US-China trade deal—on the international economy and companies' supply chains.
We also explore solutions for businesses in the MENA region that are looking to address these challenges innovatively, reduce risk and continue to operate successfully and cost-efficiently in a volatile environment.
Catch the conversation in the video above.
David Fox is the Vice President and Managing Director, Corporates business at Thomson Reuters – a global leader in enterprise compliance technology spanning Risk, Tax, Legal and Global trade. In his current role, Fox provides leadership and strategic direction for Asia and emerging Markets- one of the fastest-growing regions for the business. He is spearheading local innovation and partnerships to help corporations achieve compliant growth and business continuity in an environment of constant regulatory disruption.
In addition, Fox held various leadership positions at Microsoft, Hewlett Packard, BT Financial Group, Bankers Trust and the Reserve Bank of Australia . Fox has undertaken post graduate studies with Adelaide University and Harvard and holds an Advanced Diploma in Accounting and Business Management.