E-Invoicing: latest developments in Saudi Arabia
E-Invoicing: latest developments in Saudi Arabia                                     الفواتير الإلكترونية: آخر التطورات في المملكة العربية السعودية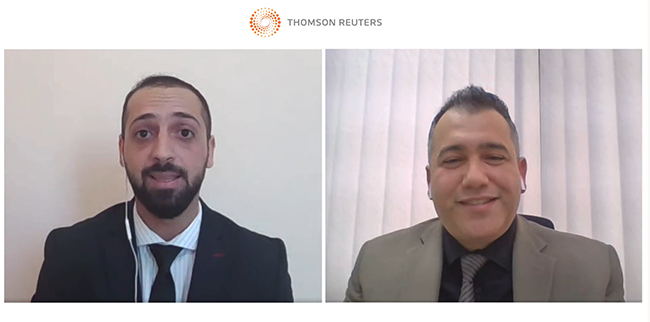 16:44
Expert Talk Video:

E-Invoicing: latest developments in Saudi Arabia

الفواتير الإلكترونية: آخر التطورات في المملكة العربية السعودية
---
In this video, Helal Alrefai, Thomson Reuters Senior Tax Analyst – MENA sits down with Adel Douglas, Tax Advisor - Grant Thornton Saudi Arabia, to discuss the latest developments surrounding electronic invoices in the Kingdom of Saudi Arabia (KSA). The video addresses what exactly constitutes electronic bills and why the Kingdom has chosen to implement it at this time. With the rise of digital transformation, facilitating the use of digitised bills provides more transparency between taxpayers and tax authorities.
To gain more insight about electronic billing in KSA, and the benefits this will bring to both government and taxpayers, watch our expert talk video above.
. في هذا الفيديو، هلال الرفاعي، محلل ضرائب في تومسون رويترز، يتحدث مع عادل دوغلاس، مستشار ضريبي في جرانت ثورنتون بالمملكة العربية السعودية، عن آخر التطورات المتعلقة بالفواتير الإلكترونية في المملكة العربية السعودية. الحديث يدور حول ما هي الفواتير الإلكترونية ولماذا اختارت المملكة تنفيذها في هذا الوقت. أيضاً كيف توفر استخدام الفواتير الإلكترونية مزيدًا من الشفافية بين دافعي الضرائب والسلطات الضريبية

للحصول على مزيد من المعلومات حول الفوترة الإلكترونية في المملكة العربية السعودية ، والفوائد التي ستجلبها، شاهد الفيديو أعلاه
Find out how our Solutions can help support you within the GCC Tax landscape.
Provide us with a few details to request more information
تومسون رويترز هنا لمساعدتك في التزاماتك الضريبية
املأ النموذج أدناه لمعرفة المزيد
Adel Douglas has more than 17 years' experience in zakat and tax compliance and advisory, including international tax in an international environment (Jordan , Saudi Arabia, and Middle East). He assists clients with various zakat/tax compliance advisory services including capital gain double tax treaties and other tax services. Adel advises businesses on VAT implementation readiness in the Middle East and provides VAT technical advice to a range of clients in the industrial, trading, banking, insurance, hotels, construction and telecommunications sectors.
Prior to joining Grant Thornton, Adel worked with EY in Jordan and in KSA he also worked with the big 4 firms Deloitte and PwC and he was the primary contact for any zakat and tax compliance