The COO Series: An Interview with Luke Tapp, Operations Partner at Pinsent Masons
Law firms across the Middle East have responded to the challenges posed by the Covid-19 pandemic by implementing a wide range of operational changes. Luke Tapp, operations partner at Pinsent Masons, shares his insights on how agile law firms can further strengthen their position in the region over the next three to five years. What follows is a summary of his conversation with Ibrahim Abdel Rehim, MENA legal professionals lead at Thomson Reuters.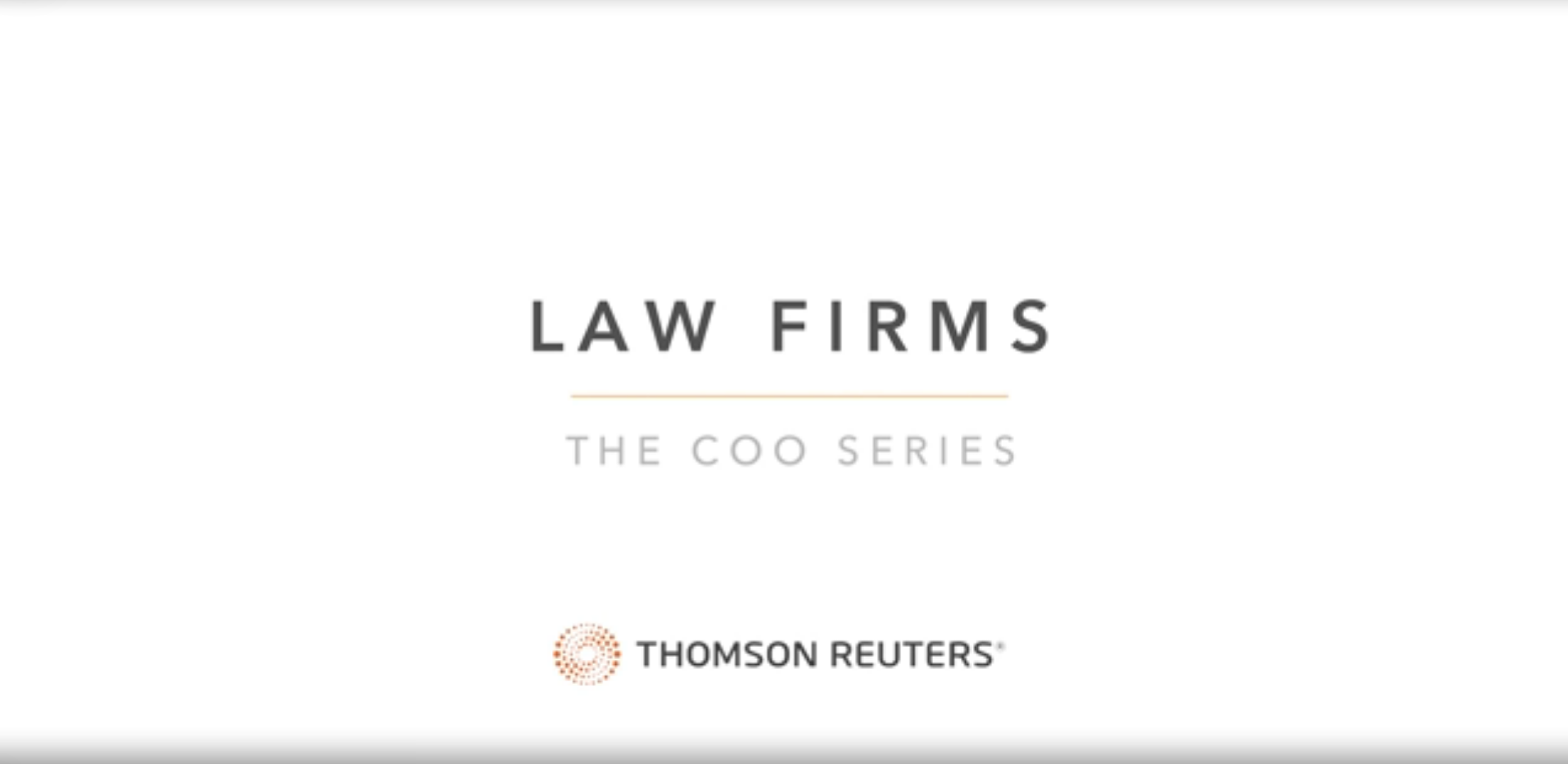 19:19
What major market changes did you observe in the Middle East over the past year?
Luke: Looking back over 2020, I think it was an incredibly challenging and unusual year for professional services firms and organisations across all sectors in the UAE. I saw that as the operations partner at Pinsent Masons in the Middle East as well as the head of the law firm's employment practice in the region, where we have been advising clients on their employment arrangements.
A lot of the developments we saw in the market last year were driven by the Covid-19 pandemic. In the first half of the year, we saw changes in the way that organisations managed employee costs and used technology. We also saw them become more agile in the way they managed their businesses.
In the UAE, organisations were swift to adapt and change in response to lockdown measures announced by national authorities in March and April to protect the health and wellbeing of local residents and safeguard the economy during the pandemic. Firms took action to financially protect their business and to ensure they could continue to operate during the lockdown period.
Lots of businesses from across all sectors asked for our support in implementing temporary cost-cutting measures such as salary reductions, reduced working hours and enforced annual leave during the lockdown. A range of operational measures were also implemented, such as rolling out new technology, making sure teams collaborated while working remotely and supporting mental health across the organisation. These were very much common themes that we saw in the first half of the year.
As the year developed, we began to see a positive impact on the UAE economy from the measures taken by national authorities to provide financial support and stimulus. This economic aid, combined with measures to contain the spread of Covid-19 among the local population, enabled people who took appropriate health and safety measures to return to office working.
The result of this has been some green shoots of economic recovery over the past couple of months, which is a significant change from where we were in early 2020. At the start of last year, organisations were taking a lot of cost-cutting measures and changing employment policies to protect the financial position of their business. More recently, organisations in all sectors within the UAE have been responding positively to the economic changes.
Firms in sectors such as financial services and professional services have been responding more quickly and positively than others and have been seeking advice on how to successfully grow their business. Organisations across the Middle East are increasingly ready to invest again and are asking: "How do we recruit this team into our organisation? How do we get this talented person into our organisation? What sort of employment contract do we need to put in place? How do we address restrictive anti-competition provisions and related issues?
By submitting this form, you acknowledge the Thomson Reuters group of companies will process your personal information as described in our Privacy Statement, which explains how we collect, use, store, and disclose your personal information, the consequences if you do not provide this information, and the way in which you can access and correct your personal information or submit a complaint. 
There were several market-changing regulatory developments in the Middle East over the past year. What were the highlights for you?
Luke: We saw significant regulatory change across the Middle East to limit the impact of the pandemic on businesses and to adapt existing employment law to evolving market needs.
In terms of Covid-related regulations, I think it was fantastic how governments across the Middle East, including the UAE and Saudi Arabia, were responsive to the business challenges posed by the pandemic. They introduced regulations to support organisations from the beginning of the outbreak in the region.
For example, the UAE's Ministry of Human Resources and Emiratisation issued in March the Ministerial Resolution 279 of 2020, which provides guidance on how companies can cut costs and protect the financial stability of their business, such as by implementing remote working arrangements and giving certain employees paid or unpaid leave. The resolution also provides proportionate protection for employees affected by the pandemic.
We also saw equality-related changes to employment law in the UAE, with the most significant being new equal pay rules and paternal leave entitlement. On 25 September, changes to the UAE Labour Law No.8 of 1980 took effect that require companies to give equal pay to men and women who perform the "same work" or work of "equal value". That's fantastic, as it requires companies to review their pay scales and ensure they provide employees throughout their organisation with equal pay.
The measures followed amendments to the UAE's labour law in late August to give male employees who have children the right to take parental leave. Companies are now required to give male employees up to five days' paid leave within the first six months of the birth of their child. This is a very progressive measure by the UAE, which is the first Arab country to require paternal leave, and very much reflects international best practice.
I think these changes make the UAE a more inclusive place to work. This will, in turn, help organisations to attract and retain world-class talent, which will ultimately have a positive impact on business and the economy.
What operational changes do you think law firms in the Middle East will need to implement to remain competitive?
Luke: I think it's more important now than ever before for law firms to focus on being market led and employee led. Law firms can't expect to continue operating the way they have always done before — they need to adapt with the times. Clients and employees want law firms to reflect the market in the way they are organised, where and how they work, and how they deliver legal advice. That requires law firms to be more agile, to have a more diverse workforce and to be more commercial in the way they go to market.
Being agile doesn't just mean allowing staff to work remotely or internationally, although that is of course important. A genuinely agile workforce also means having full-time employees, part-time staff and consultants, as this enables the business to increase or decrease team sizes in line with changes in work volume.
Another way that law firms' organisational structures need to reflect the market is by having diverse workforces. That means hiring lawyers from different backgrounds, genders and age groups, and being structured in ways that create opportunities for people from all demographics to progress up through the organisation.
It's also very important for law firms to be commercially driven in the way that they structure themselves and provide advice to clients. For example, a client from the oil and gas sector doesn't just want to receive advice on local employment law, they also want to know how their competitors are managing their workforces. Law firms will need to take these client expectations into account when going to market.
Will law firms need to hire talent with different skill sets in the future
Luke: I definitely think law firms will need to hire people with wider skill sets in future. At Pinsent Masons, for example, we have transformed ourselves from being a pure black-letter law firm to being a professional services firm that provides both legal and consultancy services. So when we talk about recruiting and developing talent, we are not just looking for lawyers who can provide clients with good legal advice. We are also looking for people with other professional services skills that complement the law.
We are developing our workforce in a different way to the way we would have done 10 or 20 years ago. An example of that is our diversity and inclusion consultancy business. Our consultants are not lawyers, but they are qualified in assisting clients with improving their diversity, inclusion and equality policies and practices. This could mean, for example, providing clients with in-house employee training on discrimination alongside other services.
I think the lawyers of the future will need to have different skill sets to keep up with market needs. The way they are trained will need to be slightly different from the way that established lawyers were trained 20 years ago.
How do you see Pinsent Masons changing over the next three to five years?
Luke: I think we will see evolutions in the way our workforce is structured and in the way that we operate in the market. We will also need to review our ideology and ask ourselves what we want to be as a business, as a law firm, going forward.
When it comes to our workforce structure, this comes back to the points we discussed earlier around the need for agility. Our business needs to reflect the market, reflect the way our clients are shaped, reflect what the market demands, and reflect workforce requirements. In simple terms, I would expect Pinsent Masons to have a smaller office footprint over the next few years. I would also expect to see more of our colleagues working remotely on a more regular or permanent basis.
I think the international nature of our firm gives our colleagues in the Middle East a real strength and opportunity. We can be more relevant, more influential within the global business and take the lead on some international client matters. The pandemic has shown how easy it is to connect through video conferencing and I think we can leverage technology to work more closely with clients and colleagues in other jurisdictions. I see the opportunity for greater international connectedness as stimulating major change within the legal sector and our firm over the next three to five years.
The opportunity to change our firm's ideology is also exciting. Pinsent Masons is now a professional services firm with law at its core. This means we don't see ourselves purely as a black-letter law firm. We will continue to provide clients with legal services, but we also have complementary services related to diversity and inclusion as well as legal project management. I think what we will see over the next few years is that area growing and becoming more relevant to our business.
This doesn't mean our number of lawyers will reduce — we are one of the largest law firms in the world and will continue to grow in that space. Rather, it means the percentage of our non-lawyer staff will also grow over the next few years. We will do this because that is what the market wants and what our workforce requires to keep us relevant and innovative in the legal sector and in our clients' sectors.
So the next three to five years are going to a very exciting time for us. I think we are going to see Pinsent Masons really taking the lead on some of the transformational developments coming up within the legal sector.
What do you think law firms of the future will look like?
Patrick: The pandemic has accelerated discussions about the future of legal practice. A good example is the success of virtual court hearings in many jurisdictions. Looking to the future, it's hard to see why anyone would want to go back to the old ways if they could save time and money by holding virtual hearings.
However, there are also certain areas of legal practice that haven't really been affected by the pandemic and will require more of a proactive approach to bring about change. For example, I think a lot more needs to be done to identify proper use cases for artificial intelligence (AI) within legal operations. There are areas where it's already being used, but it's a little niche. Our law firm is still looking at how we can use this technology in the right way.
A positive aspect of the pandemic is that a lot more of what we do is going digital, whether that's the documents our lawyers are producing or the way we communicate. And, the more information we store digitally, the more material there is for AI-based systems to process and learn from. So, in an indirect way, the pandemic may spur the use of AI or create additional momentum towards establishing the law firms of the future.
Luke is a Employment and Operations Partner for Pinsent Masons and leads the firm's Middle East employment practice. Luke and his team are employment law specialists and advise multinational groups with operations in the Middle East as well as Middle East headquartered businesses on all aspects of employment and labour law issues.

Email: Luke.Tapp@pinsentmasons.com
M: +971 50 649 5245