The COO Series: Law Firms
In the first of a series of interviews with chief operating officers at law firms across the Middle East, Thomson Reuters' Ibrahim Abdel Rehim chatted with Patrick Earl, COO at Al Tamimi & Co, about his firm's efforts to leverage key learnings from the pandemic to secure its place among the law firms of the future. What follows is a summary of their conversation; the full interview can be viewed below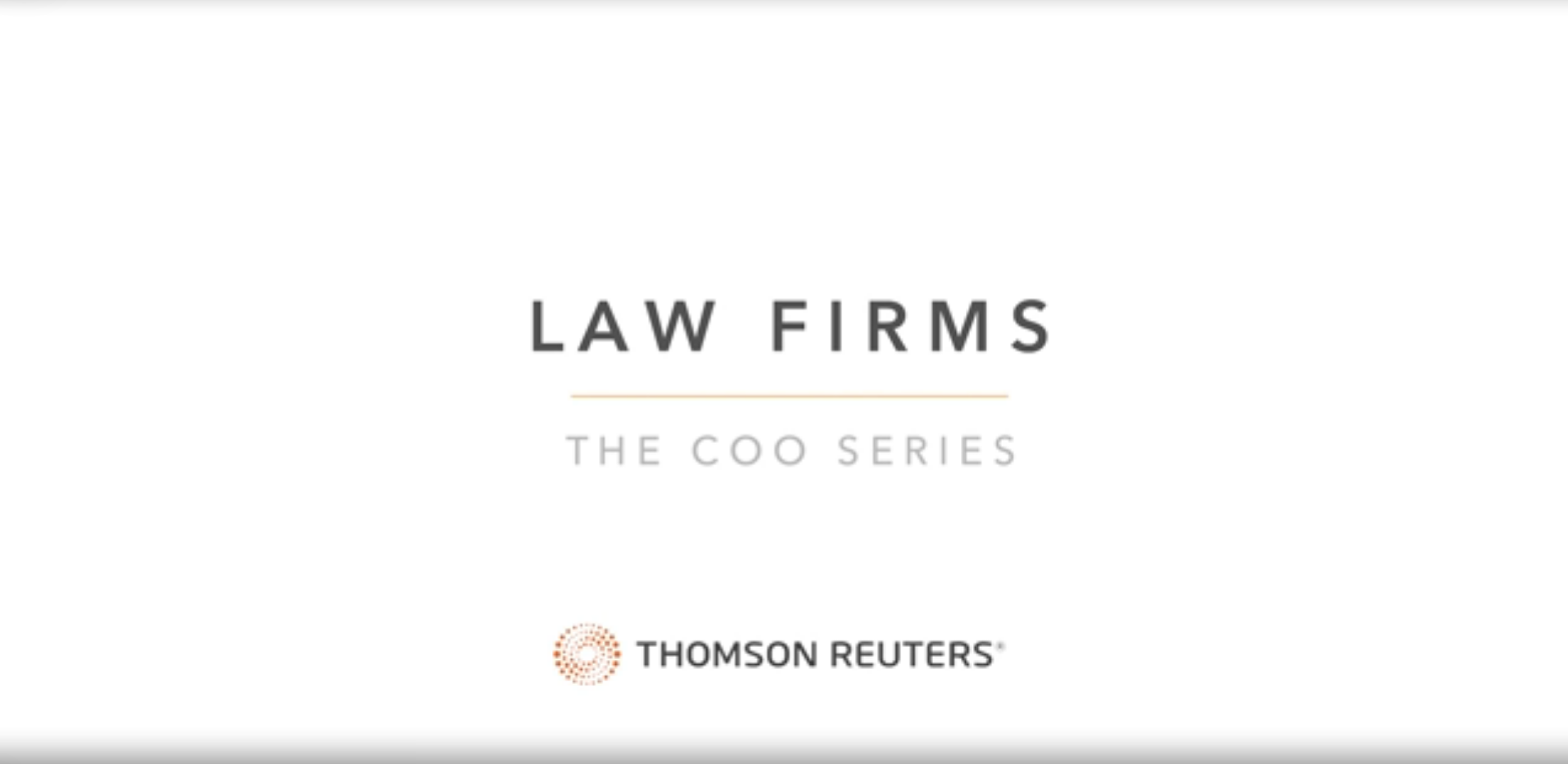 32:55
As COO, you play a critical role in leading Al Tamimi & Co through the Covid-19 pandemic. How has your firm adapted to the situation?
Patrick: The biggest impact we have seen is undoubtedly the move towards remote working. On the positive side, the speed at which we were able to transition towards remote working was just incredible! Our people have generally been just as effective working from home as they were working from the office. If it wasn't for the pandemic, some people would have been very reluctant to try remote working or maybe wouldn't have thought about it.

One thing that I personally really appreciated was being able to have lunch with my family on a daily basis. It's not something that I was ever able to experience in my career before, and it was priceless for me. I know that has been a similar experience for many of my colleagues. However, there is also an employee wellness aspect to remote working that we've had to consider and we all need to be mindful of - particularly the feeling of being a bit isolated and cut off from colleagues. There is also a feeling when you're working from home that you don't really know when the working day ends, so there's a bigger risk of burnout.
A really important aspect of how we have managed things from an operational perspective has been to strengthen internal knowledge-sharing processes and tighten up procedures for making sure our house positions on particular issues are known across the firm. The sheer pace at which we've seen changes in regulations and laws has been really breathtaking, and keeping up to speed with all of those changes and making sure all our lawyers are aware of our house positions on particular issues has been very important to get right. You can't be in a position where your left hand doesn't know what your right hand is doing.
By submitting this form, you acknowledge the Thomson Reuters group of companies will process your personal information as described in our Privacy Statement, which explains how we collect, use, store, and disclose your personal information, the consequences if you do not provide this information, and the way in which you can access and correct your personal information or submit a complaint. 
Was your firm's IT infrastructure able to support remote working during the lockdown? Do you think you'll need to invest further in technology?
Patrick: We've been investing in IT infrastructure over the past five years and that investment really paid off during the pandemic. We now have a virtual desktop infrastructure that allows us to access all of our documents remotely. We wouldn't have been able to execute a clean transition to remote working without it.
The most important development we've seen has been the increased use of technology that supports remote meetings. Videoconferencing technology has been critical in supporting everything from team meetings to client meetings to virtual court hearings. We've used Zoom, Microsoft Teams and GoToMeeting.
Other technologies that have been really important are those that support business processes. For example, we started using electronic signatures before the pandemic and they have now become much more commonplace across the firm. It's a very positive development that a lot of clients are now also accepting electronic signatures.
I think it is inevitable that the Covid situation we're living through will accelerate investment in technology in the future. Our firm is always on the lookout for the next innovation, whether it is a piece of software that supports us operationally or some other aspect of our IT infrastructure.
Moving to the topic of talent management, what are the key skills that lawyers and support staff will need during this challenging period and in the future?
Patrick: During the current crisis period, I think resilience is the most important skill or mindset. We've all had to develop a kind of mental toughness, as not knowing what the next day is going to bring is hard on everyone psychologically. I think we've all had to learn resilience and the ability to adapt quickly over the past six months, and I'm sure that will fare everyone well in the future. I think that's one of the positives that we'll have to take out of this experience.
As we move more towards remote working, there is a risk of losing the face-to-face contact we've always had when managing people through day-to-day supervision. So as a manager or as a managing lawyer, you need to be very conscious of how to get the best out of your team. The approach that works for one person may not work for someone else.
Looking to the future, I honestly think the most important skill that will be required will be people management. What we shouldn't forget about law firms is that ultimately it's a people business - whether we're talking about the client relationship or the relationship between teams, it comes back to the people. We need to focus on our people as technology becomes more prevalent in the workplace.
How has the current situation affected client relationships in the Middle East?
Patrick: This period of remote working has been very challenging in terms of maintaining client relationships. We're a firm with a 30-year history and some of our client relationships span that entire period, so a six-month period of remote working isn't going to damage or dent those relationships. But if that period of time were to extend, it would be difficult to build new client relationships without face-to-face interactions.
Business in the Middle East is very much driven by personal relationships and I don't see that changing in the future. I think the inevitable reality is that we need to get back to face-to-face contact as soon as possible. I don't see technology replacing personal interactions in the future.
How has Al Tamimi & Co adapted its client services in response to the pandemic?
Patrick: One thing we've seen from the pandemic is that lawyers in different offices have been able to support work underway outside of their home jurisdiction. The pandemic forced us to work a lot more flexibly and collaboratively across our offices and teams in the Middle East. For example, if we had a healthcare matter in Bahrain, some of our healthcare lawyers located in the UAE also shared their expertise.
This new way of working creates opportunities for our lawyers, because it means they can get exposure to different types of work both within and beyond their home jurisdiction. It also creates opportunities for our clients, because it means we can operate more efficiently.
So I think that's a huge area of opportunity that we need to capitalise on, and perhaps the pandemic has been a bit of a wakeup call for us from that perspective. It's shown us that this is something we can do and that we can manage our work successfully in this way. We've come to realise it because we've been forced to do it.
Which skills will law school graduates need to meet client expectations in the future?
Patrick: I think it's a given that they will need to develop their legal skills and they will certainly do so through their legal training. But all legal graduates should also have an eye on the commercial skills that lawyers need today and which will be even more important in the future.
An example of this is sector knowledge. A client from the energy sector, for example, identifies with that industry and expects to find law firm professionals who can speak the same language and who can understand the issues they are facing in their industry.
What do you think law firms of the future will look like?
Patrick: The pandemic has accelerated discussions about the future of legal practice. A good example is the success of virtual court hearings in many jurisdictions. Looking to the future, it's hard to see why anyone would want to go back to the old ways if they could save time and money by holding virtual hearings.
However, there are also certain areas of legal practice that haven't really been affected by the pandemic and will require more of a proactive approach to bring about change. For example, I think a lot more needs to be done to identify proper use cases for artificial intelligence (AI) within legal operations. There are areas where it's already being used, but it's a little niche. Our law firm is still looking at how we can use this technology in the right way.
A positive aspect of the pandemic is that a lot more of what we do is going digital, whether that's the documents our lawyers are producing or the way we communicate. And, the more information we store digitally, the more material there is for AI-based systems to process and learn from. So, in an indirect way, the pandemic may spur the use of AI or create additional momentum towards establishing the law firms of the future.
What action is Al Tamimi & Co taking to prepare for the future?
Patrick: We are looking at building the combination of working from home and working from the office into the design of our new office premises. This is a live project that I'm currently working on and which we will be implementing over the coming months.
Our current thought process is that, at some point in the future, most of our people will work from home one or two days a week and so our lawyers won't need a dedicated office specifically allocated to them full time. We need to find the right processes for sharing that office space, which will enable the firm to save money on its premises costs and reinvest those funds elsewhere in the business.
To give you a flavour of the scale of the anticipated change, before the pandemic we were considering office premises of around 80,000 to 100,000 square feet, which is what we felt we would need for the future. As a result of the pandemic, we have changed direction and are now looking at an office space of about 50,000 to 60,000 square feet. So, our premises requirement would be reduced by approximately 30 percent.
Patrick Earl is COO at Al Tamimi & Co, a leading law firm in the Middle East. He works closely with the firm's leadership on strategy implementation and is responsible for approximately 400 staff across its business services functions. Patrick is also a founding partner of the COO Network, a professional development resource.