How legal technology can stimulate transformational change in organizations
How legal technology can stimulate transformational change in organizations 
Khaled Shivji, TMT Partner at Keystone Law Middle East, discusses with Thomson Reuters' Nicholas Cronjager how to see through the hype around legal technology and identify solutions that can bring about more efficient, streamlined and agile legal services. What follows is a summary of their conversation; the full interview can be viewed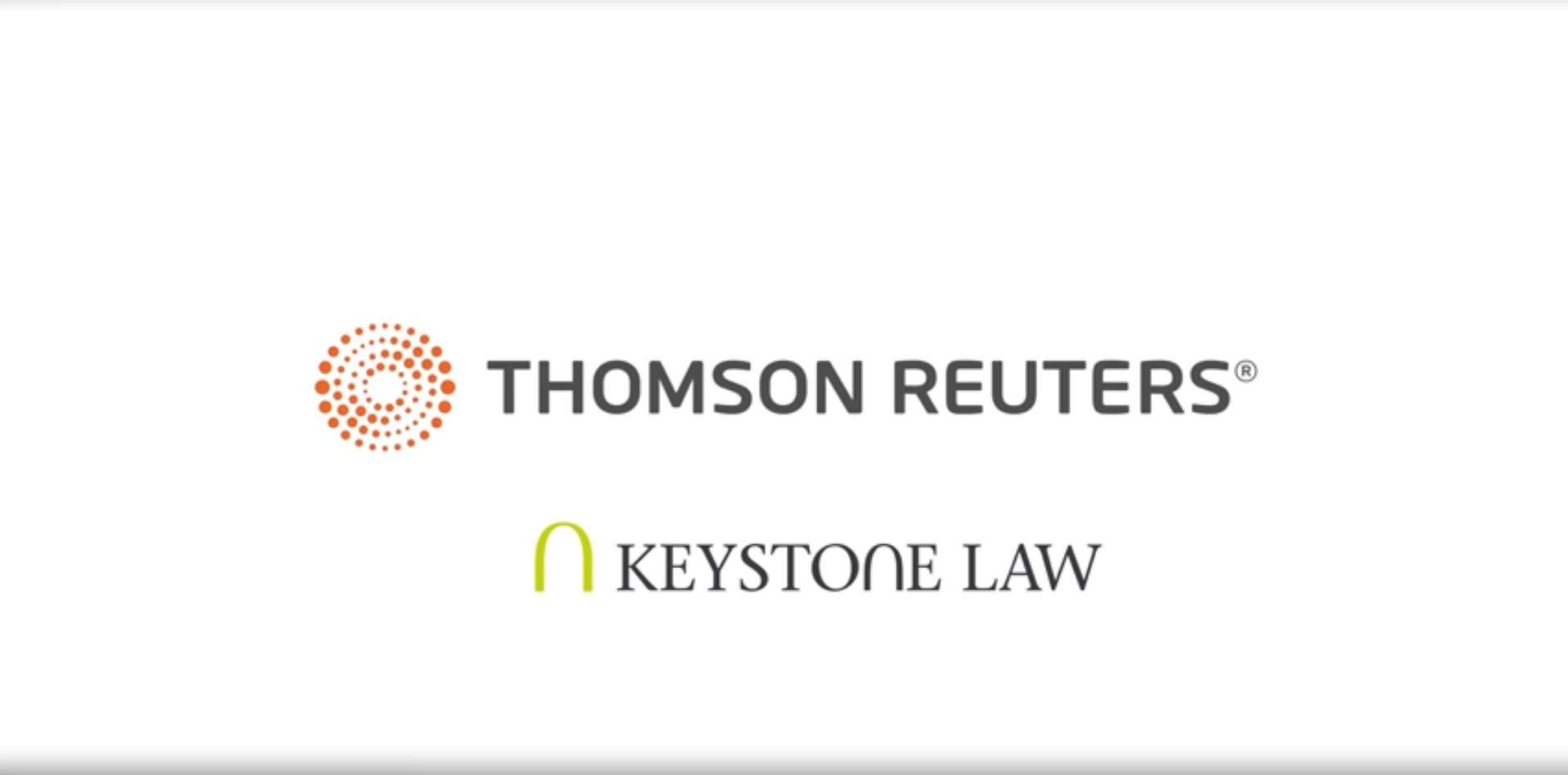 32:55
In your opinion, why should lawyers use legal technology?
Khaled: Legal technology enables lawyers to process their work in a more streamlined and efficient way. Technology that has been specifically developed for the legal sector can help them to become better and more agile in the work they do.
Where should legal departments start when they begin to think about legal technology?

Khaled: Legal departments need to start by assessing where they are at this point in their digital transformational journey and where they want to end up. They've built up legacy processes and systems over the years in order to serve their clients in the best way that they see fit, but that may not be the best way of doing things in the future. In-house counsel now need to look outside their organisation, identify the latest innovations in the legal tech marketplace and have discussions with vendors about the cloud-based services they can provide.
Why should legal departments consider using externally-developed software that is hosted in the cloud if they already have internally developed systems on site?
Khaled: A lot of organisations have legacy processes based on systems they've developed over the years for handling documents, drafting contracts and delivering advice to clients. And that's great because that's how organisations have evolved. One of the benefits of moving from on-premises data storage to cloud-based storage is that it can deliver huge cost savings for organisations in the long run.
Experienced legal tech vendors will understand and address common concerns among legal departments about using cloud services, including concerns relating to security, uptime and availability. Vendors know that legal departments need to have their information stored centrally and securely in a cloud infrastructure.
The best vendors will also provide access to a range of software and enterprise applications that legal departments can access while using the cloud. Corporate counsel need to be bold and brave in deciding whether to use software-as-a-service that is based in the cloud.
If you were tasked with changing the way a legal department does business — and technology was at the forefront of that transformation —where would you start?
Khaled: It's very important for organisations to consider where they are now and where they want to be in future. Adopting legal technology is a form of disruption for organisations. I think they need to understand that if they really want to do something incredible and aim for a 'moonshot', they may want to consider redrawing the boundaries around what they call legal services within their organisation.
There are several good resources that corporate counsel can draw on to find out about the latest legal tech in the market — what's hot and what's not. I would recommend looking at Legal Geek, LawTech, Global Tech Loop and Stanford University's CodeX website. They are very good depositories of knowledge and advice about the types of legal tech that are available today.
The reason I think it's important for organisations to do their research is because they need to keep an open door for innovators to showcase their products. This will help to drive discussions within the organisation about where they are starting from and where they want to end up. Talking to innovators in the legal tech industry is the best way of getting the ball rolling on those conversations.
If a law firm or legal department has been able to establish a business case for investing in legal technology, often the next logical step is to send out requests for proposals (RFPs) or requests for information (RFIs). What advice would you give to organisations thinking of going down that route?
Khaled: This is a very important part of the tendering process because it enables outside suppliers to feed in their information, pricing and services on how best they can serve organisations. Traditionally, what tends to happen is that those RFPs and RFIs are sent out are in paper or e-document forms, which is very time consuming and costly for suppliers to fill out, respond to, package and send back to organisations.
I recommend that organisations instead stipulate all their requirements through electronic procurement portals and allow technology suppliers to complete the necessary forms online. This will send a signal to suppliers that the organisation is ready for transformational change and that it is starting to embrace technology and prepare for the future.
In-house legal departments have historically been very resistant to transformational change. How can they ensure they really thrive and deliver on needed change?
Khaled: A lot of lawyers have had very regimented styles of education and training about how they should work and they types of services they should provide. I think we need to respect that they've done this because they want to become experts in their field and have trained themselves up to the best possible standards within their jurisdiction.
Legal departments can become very resistant to change because there's often sense of a lot of ingrained thinking and institutionalism that comes with being a lawyer. Often, the attitude is "this is the way we do things, we don't want to change the way we work, we want to serve our clients in the same way we have done for the past 20 to 30 years".
I think legal tech innovators need to respect that way of thinking and help in-house counsel to chip away at some of the resistance they may face internally by helping them to demonstrate better ways of doing things. Legal technology can transform existing processes by making them more efficient, streamlined and agile for lawyers, which is especially important today with the Covid-19 pandemic. Legal technology can also help lawyers achieve better results for their clients while working pretty much anywhere in the world.
What role do you see technology playing in future?
Khaled: Today's legal graduates are very tech savvy. Many of them have been using smartphones since they were teenagers or younger, so they are bringing very different skills into the workplace. They understand how technology can help and benefit them and, more importantly, how they can deliver client services faster and in a more streamlined way.
I think it is important for legal departments and law firms to embrace technological change by bringing in people who really understand technology, how it's evolved over the years and how it can work for their organisation. I'm really looking forward to seeing how law firms and legal departments are going to evolve over time and use technology to better deliver services to their clients.
By submitting this form, you acknowledge the Thomson Reuters group of companies will process your personal information as described in our Privacy Statement, which explains how we collect, use, store, and disclose your personal information, the consequences if you do not provide this information, and the way in which you can access and correct your personal information or submit a complaint. 
Khaled Shivji, Partner at Keystone Law Middle East
Khaled started his career in internet engineering. He was a member of the Institution of Engineering and Technology (IET) and won the IET's global prize for his research on internet music piracy and IP infringement. As a lawyer, Khaled leads large scale transactions in the technology and telecoms sectors involving 5G, AI, Big Data, cloud computing, fibre, FinTech, legal technology, mobility and software as a service. Khaled's masters thesis was in the field of anti-bribery programmes and regulatory compliance.
Nicholas Cronjaeger, Head of Legal Software Solutions, MENA, Africa and Russia
Working across key fundamental areas of Legal Technology such as Matter Management, E-Billing, Document Automation and Contract Management; Nick has worked both as an implementation consultant and subject matter expert for Thomson Reuters and other leading legal technology providers.
His legal technology journey began with law firms, integrating revenue and debt collection solutions into their existing practice management systems.
From there, Nick worked with FTSE 100 in-house legal teams, such as Barclays, TOTAL, Credit Suisse and Standard Chartered, to provide centralised legal matter and spend management platforms, including tendering and reverse auctioning sites.
As part of Thomson Reuters, Nick is now responsible for leading our market development and knowledge of all legal software solutions across the Middle East, North and South Africa, as well as Russia.