The COO Series: The role of lawyers in the future of law
Kiran Scarr, Chief Operating Officer at Support Legal, discusses with Thomson Reuters' Ibrahim Abdel Rehim how her UAE-based firm is preparing for the future of law and helping clients to do the same. What follows is a summary of their conversation.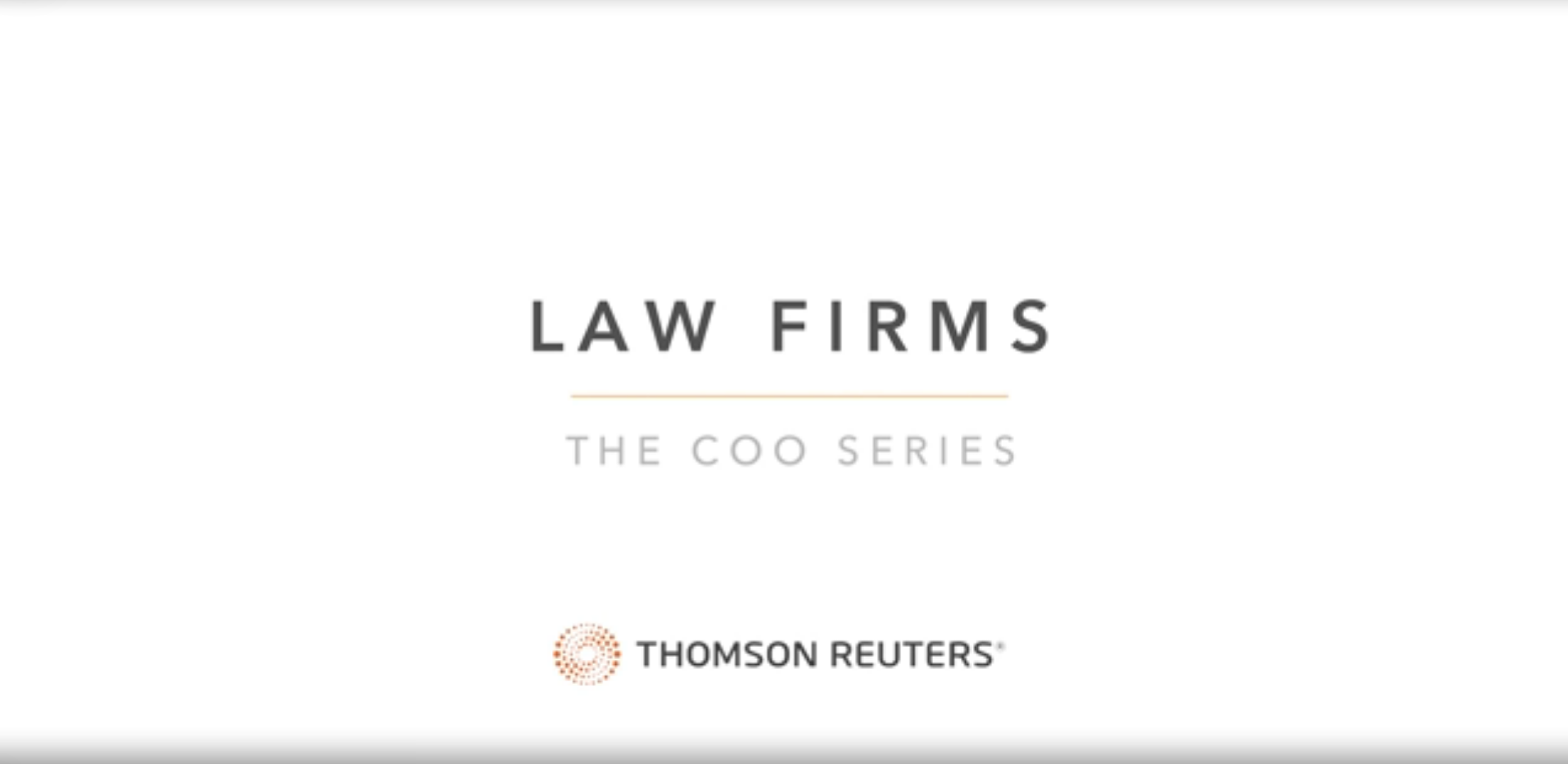 19:19
What is the future of law and how does it compare to traditional law?
Kiran: There are many differences between traditional law and the future of law. From a practical perspective, the two key differences are that the future of law is a lot more client centric and people centric.
Firstly, being more client centric involves moving away from focusing on the legal services that we provide as law firms and towards a fuller understanding of what our clients actually need. It's about considering their challenges and pain points before assessing how we can help in-house teams and their organisations to create better value. In practice, this translates into providing a legal consultancy service that takes a very solutions-focused approach. It also means offering clients a variety of resourcing options to accommodate their need for agility as they navigate continual change.
Secondly, being more people centric involves a radical shift away from the traditional metrics of legal services, which focused on quality of input and effort, to focusing instead on the impact we can have on the client's business and how we can influence strategic internal change. The future of law is not only about what we deliver but also how we behave, and about radically changing the role of lawyers. The core competencies required are innovation, creativity and problem solving.
Being people centric is also about empowering our lawyers to make decisions. When you get rid of centralised committee-based decision-making structures, you can truly sit on the client side and work with them to find solutions.
How has the Covid-19 pandemic affected your firm's business operations?
Kiran: When the first Covid-19 lockdown took place in the MENA region last year, we witnessed a lot of law firms rapidly investing in technology and moving their workforces to full virtual working. Support Legal was already a virtual law firm, and we are very proud of the fact that the pandemic proved our business model works and showed that it is the future of law.
Law firms are now grappling with how to best deal with large investments in permanent workforces and real estate. At Support Legal, we have very low overheads; a majority of our people are self-employed. This makes us very agile and aligned in our motivations.
Another key aspect of our business model is our decentralised decision making. We are a values-led organisation and implement our values as an organisation through our governance structures, policies and procedures. We are very transparent and have very simple policies and procedures that empower people to make decisions. If you're self-employed, you need to be empowered to make decisions that enable your productivity and profitability.
Fundamentally, the mindset of our people differentiates us as a firm. I recruit people based on their personality, because it takes a certain mindset to be in the future of law. It's the mindset of an entrepreneur or innovator, of someone who is not afraid to experiment or make mistakes as part of the process of creating innovative solutions for clients.
By submitting this form, you acknowledge the Thomson Reuters group of companies will process your personal information as described in our Privacy Statement, which explains how we collect, use, store, and disclose your personal information, the consequences if you do not provide this information, and the way in which you can access and correct your personal information or submit a complaint. 
Do you think traditional law firms can follow the same business model as Support Legal?

Kiran: Yes, it's already happening. Some of our closest partners are law firms. Our vision isn't to compete, it's to partner with law firms and in-house teams to enable them to move seamlessly into the future of law. From my perspective, the future of law is about how we work together and partner with each other to make it a reality for everyone as quickly as possible.
Over the past year, law firms have fast-tracked digital transformations that would have taken four or five years to achieve. Law firms are increasingly looking at ways of becoming more agile and engaged with creating value for clients. So the future of law is already here, we just need to embrace it.
What are the biggest market trends and challenges facing law firms today?
Kiran: I think the overarching theme with clients is a push at organisational level to have some level of digital transformation, with the legal function as a critical part of that process. In-house legal departments are involved in many aspects of the business, whether it's risk mitigation, contract lifecycles, good governance or getting deals done. Digital transformations are a strategic imperative and legal functions play a large part in that.
In-house legal teams and law firms are asking us to provide services, skills and solutions to help them achieve digital transformations. What this is about is the adoption of technology by people who aren't familiar with the process of digital transformation, the solutions available in the market or how to effectively implement these projects. We work with clients to assess what a successful project implementation would look like for them. We then select the right solution for their business, whether it is our proprietary legal technology or other software on the market.
We have seen from partnerships with Thomson Reuters and others that there is a real drive amongst law firms and in-house legal teams for a wide variety of technological solutions. The early days of legal tech adoption were all about the automation of contacts. We are now seeing increasing demand for contract lifecycle management tools and wider legal project management tools. We are also seeing a lot more dialogue in the marketplace about how to use chatbots and artificial intelligence to deliver legal services more seamlessly and efficiently.
So we are seeing a market shift, with greater interest, uptake and curiosity about legal operations and what they can do for organisations. I think it's an acknowledgement of the pressure that in-house legal teams and businesses are under right now in this region. There is a lot of regulatory change and compliance scrutiny to navigate, as well on-going myriad economic and geopolitical challenges.
What this means is that, as a business and team, you must transparently demonstrate that you are creating value. That's where legal operations reviews come in and help in-house lawyers to enable ease of business. Lawyers have historically been seen as a hindrance nuisance in organisations, but they are now being seen as enablers through their wholehearted adoption of technological solutions.
When organisations go through digital transformations, people often ask "will the machines replace us?". I always say that machines are there to do, while people are there to think. Let the machines replace us in doing the repetitive manual processes, because there's a far greater role for us as lawyers. The future will be all about our thinking, creativity and innovation, that's where we will add value as lawyers.
How should the next generation of lawyers prepare for the future of law?
Kiran: I would say don't take for granted your ability to be curious. Be curious about the market, about technology, about what legal tech projects look like and what they feel like to implement. Be open to making mistakes and be open to experimenting, because that is where learning takes place.
As young lawyers, we were always taught to be perfect, to deliver a complete and perfect product to clients. It's not about that anymore, it's about our willingness to experiment and our ability to innovate. That applies not just to the younger generation, but to all of us. Embrace experimentation right now, because it enables you to grow and thrive.
Kiran Scarr, Chief Operating Officer, Support Legal
As an executive leader who has delivered multi-award-winning transformation in the fields of legal, compliance and regulatory affairs, Kiran is passionate about leading through radical change in the legal sector. Kiran joined Support Legal because of her belief in being the change she wants to see in the world; that change being New Law.
As a former magic circle lawyer, general counsel of the global leading free zone and accredited executive coach, Kiran has learnt that changing the way legal services are delivered comes through courageous commitment to people-led leadership to create sustainable growth and purpose.
Kiran is a prominent keynote speaker and thought leader on change leadership and New Law. She was twice named General Counsel of the Year in the Middle East (2018, 2019) and, together with her teams, has been recognised by industry press for contribution to the in-house community and compliance innovation.